Advanced & Elegant Security Systems
As a Control4 authorized dealer, APB Security can put you in control of virtually every aspect of your home. From the serious things like safety and security to networking right down to the simple creature comforts like lighting, music, entertainment and atmosphere.
Safety And Security
Lighting Controls
Energy Monitoring & Management
Entertainment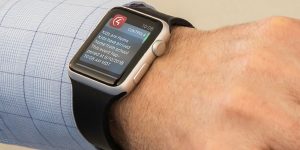 Easily view and manage locks, or grant or remove access to the house. Receive notification the moment that something isn't right, such as a pipe leaking in the basement or the garage door left open. Monitor the state of your home, no matter how far away you are, by putting the control in your own hands.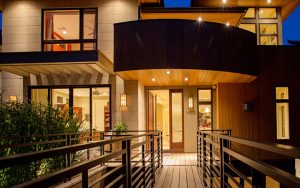 The Mockupancy™ app will alternate lights and shades—and even televisions—in a random fashion so that your home simulates your family's activities to make it appear occupied while you're away, providing additional security and added peace of mind.
Using a simple mobile app, you can easily monitor cameras that are placed inside or outside of your house. Remotely view live security camera footage straight from your mobile device, and take command of your home, whether you are downstairs or downtown.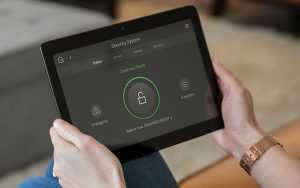 As elegant as it is effortless, arm or disarm your security system—or even receive immediate emergency assistance—directly from an intuitive user interface on a touchscreen, TV or mobile device. And on your way out, simply press "Away" to set the alarm, engage the cameras and lock all doors.

Smart Sound Systems
Listen to music from a multitude of sources including your i-pod/ mp3 player, radio, streaming music providers, internal hard drive or computer

Play Sinatra in the kitchen, classical rock in the living room and R&B in the teenager's room.  With our custom options, you and everyone else in your home can simultaneously enjoy their individual choices of music

Enjoy 4.5 million song choices through registration with Rhapsody (A Rhapsody membership costs a minimal fee)

Begin your mornings on the right side of the bed as your favorite music selection will gently wake you to the scent of your favorite coffee being brewed.
Epic Home Theater
More than just a space to watch a movie, your theater is meant to be a place of isolation, drawing you away from the outside world and straight into the action.
It's the perfect ambiance that leaves your family lost in the cine-magic, the go-to spot for friends to enjoy the big game or the next binge-worthy series, and a space you'll never want to leave because the viewing experience brings it all to life. Create your perfect escape and then surround yourself with those who matter most.